The 17th year of LP Underground has finally been formally announced and released, and while I know there are already a few topics about it's arrival, I'm creating this one for one central location to discuss everything such as changes, questions, and reactions. Bigger issues may be made into their own topics, but quick questions are better off kept here.
Below is a quick rundown of everything LPU 17 has to offer. You can get more information as well as purchase any of these tiers at http://lpunderground.com/.
---

($10.00)
The LPU Digital Membership includes a one year membership to Linkin Park Underground. This includes all of the same benefits as the bundles below, but does not include any merchandise (although most of it can be bought separately at a later time without purchasing another membership; see below).
Some of the benefits to having a LP Underground membership means having access to member only content, which includes, but isn't limited to:
LPU Exclusive Videos
Streams of LP Underground's discography
Exclusive Downloads & Merchandise
Monthly giveaways
VIP access on the Linkin Park app (available on iOS and Android)
If you are currently an LP Underground member, you already have access to all of these perks. You do not have to pay for another membership to access new offers brought upon by LPU 17.
---

($35.00 / $40.00)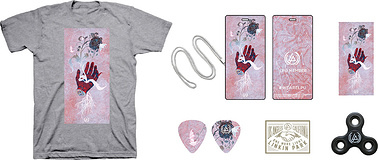 The standard LPU 17 Bundle includes the following merchandise:
LPU 17 T-Shirt (Men & Women's Sizes)
LPU 17 Laminate & Lanyard
LPU 17 Sticker
LPU 17 Guitar Pick
One More Light Enamel Pin
Anyone who doesn't currently have an active LPU membership (or wishes to extend their current membership) can buy this bundle for $40.00 and receive the LPU Digital Membership along with the merchandise. For a limited time (while supplies last), those who buy this version of the bundle will also receive an LPU Fidget Spinner.
Members with active memberships that do not wish to extend their membership period can purchase the merchandise separately for $35.00. This version of the bundle does not include the LPU Fidget Spinner, though it can be purchased separately from the LP Underground store for $10.00.
The merchandise package without the membership can be found at https://linkinpark.com/lpu/store/.
---

($89.00)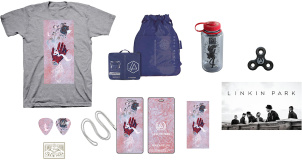 For $89.00, the LPU 17 Deluxe Bundle includes everything the standard bundle offers, as well as bit more. This extra merchandise includes:
Linkin Park Packable Cinch Bag (Hex Compact SackPack)
Linkin Park Tiger Master Water Bottle
For a limited time (while supplies last), this bundle will also include an LPU Fidget Spinner and a Linkin Park Bridge Poster.
This bundle does not offer a version without the LPU Digital Membership, meaning members with active membership who purchase this bundle will extend their membership period by another year.
The Packable Cinch Bag can currently be purchased separately from the Linkin Park store at https://store.linkinpark.com/ for $24.99. At the moment, the Linkin Park Bridge Poster is sold out, and the Tiger Master Water Bottle is exclusive to the LPU 17 Deluxe Bundle.
---
Please note that purchasing any of these tiers that include a membership enables automatic renewals of said membership after the period expires. You will not be charged before the membership expires, and you be notified by email prior to its expiration. If you wish to disable this feature, go to https://linkinpark.com/me, click on "MANAGE MEMBERSHIP" and uncheck"Auto-Renewal". More information about the automatic renewal process can be found at LPU Membership auto-renew.
All LPU 17 merchandise will begin to ship the week of December 13th, 2017.
---
Frequently Asked Questions
What happens if I purchase a membership and I am already an LPU member?
If you already have an active membership, purchasing another membership will extend your current membership period by another year. Nothing will be canceled and no time will be lost.
Where is the LPU 17 CD?
As of right now, there is not an LPU CD for LPU 17. While I do not speak for LPU HQ, please understand that with the circumstances of Chester's passing, it is understandable that things probably aren't going as originally planned. LPU HQ is still open to the idea of music release for this year of LPU, going by this tweet by Lorenzo.
Please do not pester or harass the band or LPU HQ for not including a CD with this year's LP Underground packages. It is 100% understandable that you may not want to renew your membership if there isn't a CD included, but the best way to let LPU HQ know is to tell them nicely and show your support. We are all still hurting from Chester's passing, there is no need to be angry over the lack of a CD.