Because I'm too lazy to fill it now

Good build. I will go for something similar for my PC next year. I really want 500gb SSD as they aren't that much. I'll downgrade to 1Tb HDD not that it makes much difference. I hope CPUs get cheaper next year

Mine's not a build, it's just a laptop I found at a decent price. It's an HP Pavilion something-a-rather. My old one was a pavilion too. W10 is still driving me mad.
The great thing about W10 is that it's predictively a pain in the backside.
Touchscreen??
W10 is easier with touchscreen…
Nope. If it were touch screen I wouldn't have bought it.
ohhh true.
My macbook is 6 years old - I can't bear to part with it, and Apple hasn't put out a decent macbook pro in years. I mean, seriously, a 'touch bar' - how is that a thing? Nothing that I'd pay $$$ for.
So, I'm stuck - cos one day, this beast is going to die - and I dunno what I'll do then. So I just keep replacing bits on this thing till I can't replace bits no more…she's getting a bit slow though…
MacBook Pro 2015 is a decent one. Pretty expensive though, but you don't pay for something like touch bar/etc - you pay for a decent laptop
Oh no way - the touch bar was like, I dunno, a gag! I was hoping, for something special to come from Apple - but it's just been more of the same - so I feel like I can't really justify the expense of a new one - if it's going to be basically the exact same of what I've already got - just a little lighter…
But the day will inevitably come when I'll have to bite the bullet…lol

Bit like my S8 and Bixby - Bixby doesn't do anything for me, except get in the way when I accidentally press the button. Another useless supposedly helpful feature!
Lol… this year haven't brought anything special. Last time I had the magic feeling was with AirPods(btw, everyone says the sound is the same as the EarPods but it's better! Bass is actually… is, it's not leaking)
Do they not like just drop out of your ears??
I'd be so afraid of like walking across the road, and then…oops - there it goes, and then, oh, there's a car, nek minit… flat AirPod…
Lol - no falling out of ears, checked! I don't wear them in the metro though - they attract attention
What the actual f*ck?! My temps are all over the place and the thing is just idling. I've never seen my old one go above 75C (and I was playing a game) this went to 80C on one core doing absolutely nothing.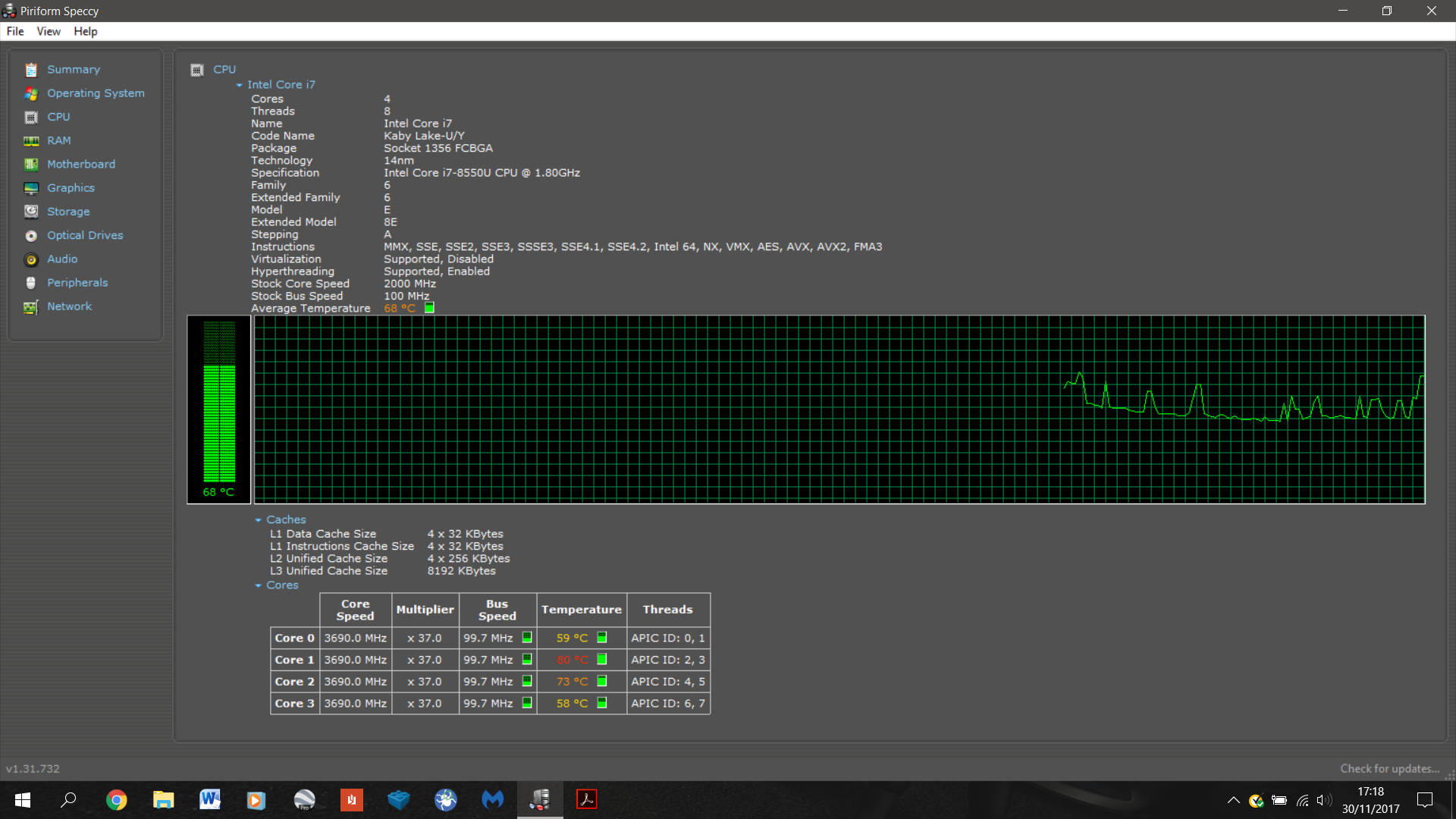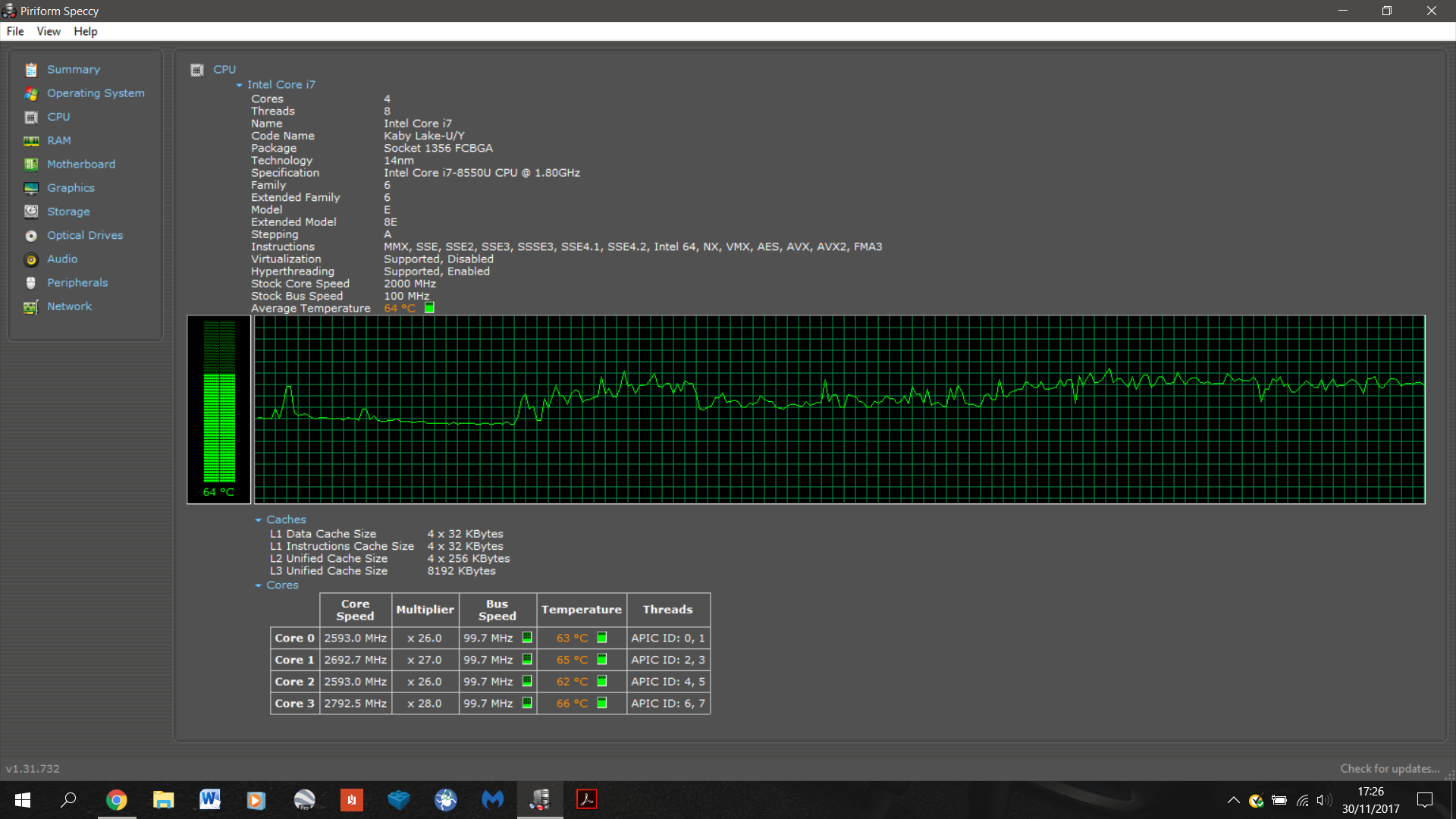 EDIT:
83C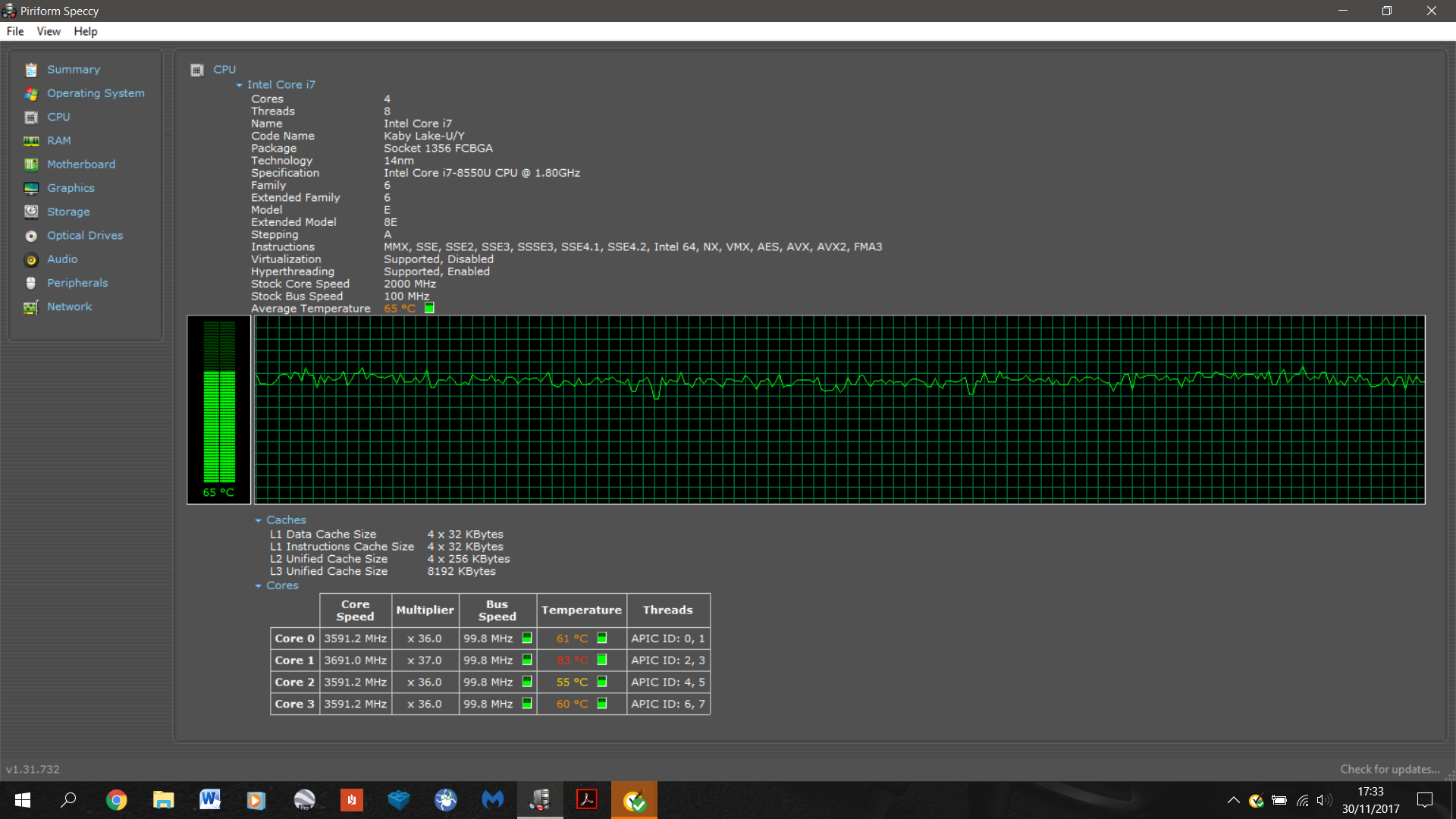 As I said, can't understand- but- it's not working properly- right? This just is fu**ing annoying and sucks massively- I feel with you bro





… hope it will be better soon and then we can go ahead…

It's not difficult. Those are just temperature charts. It shouldn't be at 80 Celsius, that's way too high.
This is what my old one looks like normally: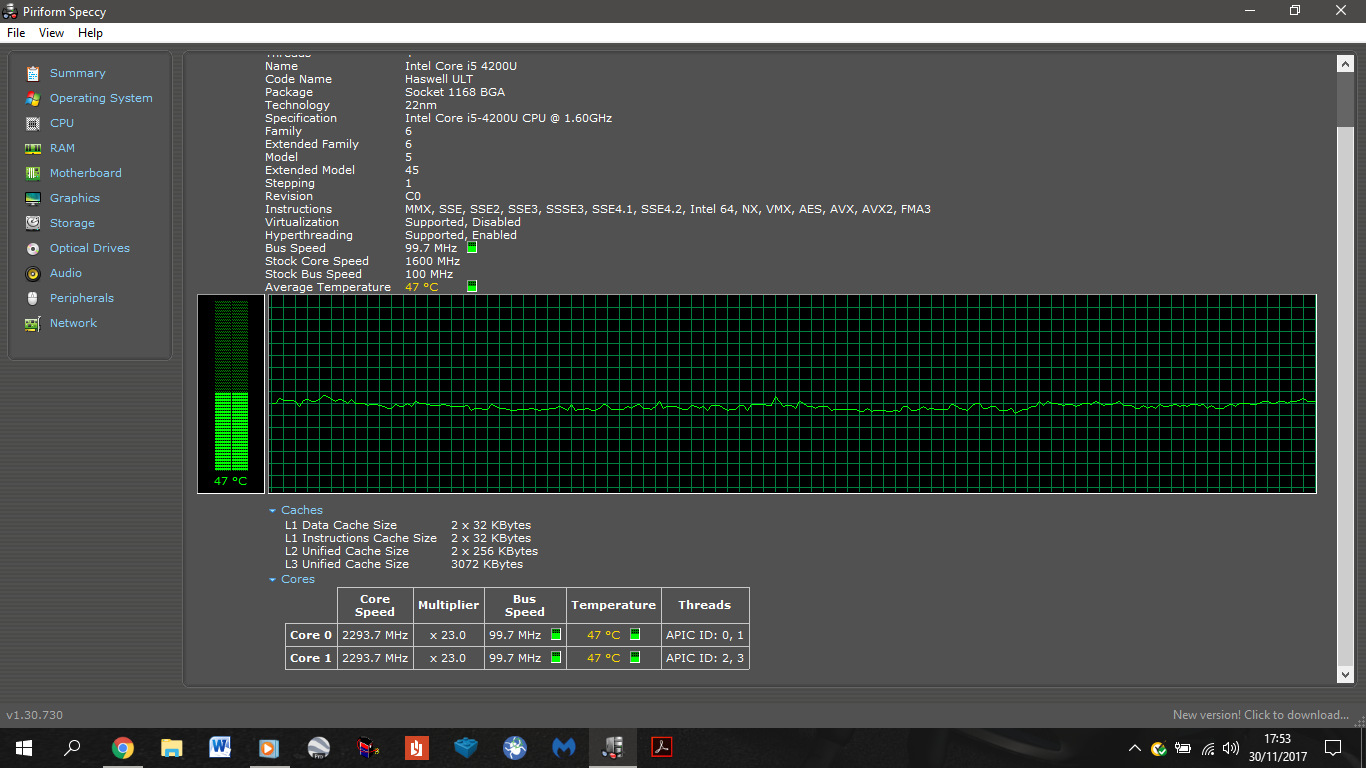 And this has 2 less cores and has far older technology in it.
80deg?! Something is seriously wrong

Tell me about it, I'll probably get it exchanged. The real pisstake is that I went through the pain of setting it up. I'm searching around to see what the cause could be.
Man this new laptop doesn't work with you at all
Tech just hates me full stop. The laptop is about 24h old.
Better now than in a few months or a year when the warranty wears off

Get that bad boy replaced asap
I had it shut down from when I posed the edit on the first post up until a moment ago. I've got it running task manager and speccy to see what it is that's causing the spikes. For now it seems to be behaving. Working between 2 laptops is so annoying.