We won #LPFamily






I'm so happy they won. It may sound weird, but I felt so helpless to do anything after Chester's death. Being able to vote everyday felt like a small way of doing something for them. They so deserved this, OML ROCKS!
I am so happy and grateful they won. It is well deserved

Yay I was so happy to see them congrats
Wow that was so cute Mike shinoda said you guys didn't know we would make it we made it I was so shocked to see linkin park at the American music awards Congrats to linkin park winning best alternative rock
The irony is they got kicked out: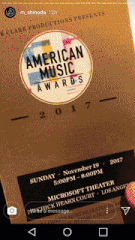 (An Apple ad decided to photobomb itself in the screen recording)
The Mike's stories was the best. #TwoDudesWithNoSocialMedia
Were they really got kicked out?? Because Mike during the instagram story was like he was having fun… If they did they should apologise to Linkin Park…
I am so glad that linkin park won they truly deserves it . I was so happy they Dedicated the Award to chester that touch my heart. i can here in mike voice that he what to cry it still hurts hem.
Looks like we did our job here! Way to go you guys!
Kicked out? That's terrible. I wish that wasn't the case.

. Especially with all they'd been through.
Am I actually the only one who finds it quite funny that they got kicked out?
I'm so excited and happy!! They deserve it!! Chester deserve it!
Guys, Mike was trolling haha. They were not really kicked out
Mike looked like he was having fun with all this hide and seek!
I like the hashtag…

Yes guys, Mike was teaching us all not to believe the first thing we see. I love his constructive sense of humor



His lesson

Great Award win, very well deserved

Ok Mike was set in Trollnoda mode…