A: 25 december, Christmas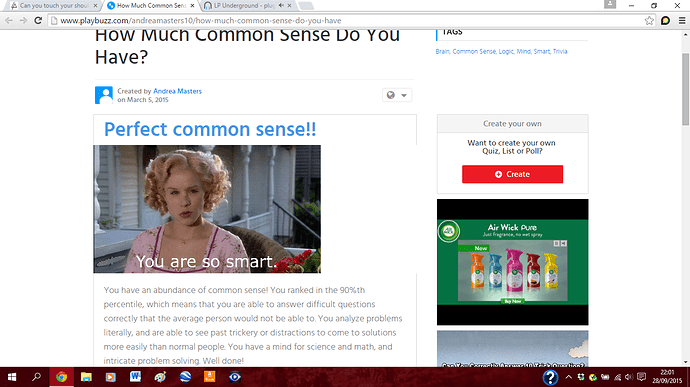 These lack common sense lol. The question about the man that's living in the US and being buried in Canada is so simple to answer. The answer is obviously "yes". Nowhere does it say that he has to be dead to be buried and nowhere does it say his current location

People go for "no" because of the part about living.
Q: Is there a dumber quiz than the animals in a fridge common sense quiz (which lacks any form of sense)?
A: I bet there is…
Q: [What female Disney Character are you?][1] [1]: http://www.playbuzz.com/bonequiquijones10/which-female-are-you-from-disney [ there ya go

]
Here's what I got:

ot @gatsie that fits imo
A: not able to get the usrl to pic the pic here, but my result: Snow White: You're a little shy and timid, but not so much around your friends. You love nature and animals. And you know how to work.
Q: hat was your biggest anger last week?
Q2: how do ya solved
A: My stupid wifi
A2: Music

Honestly, when the wifi cuts out because of the phone ringing you can only wait it out.
Q: Can stop with the quizzes please?
A: Depends what @Gatsie & @amitrish have to say.
Q:
@the_termin8r1 so your modem is using some sort of dial-up connection? Cuz it's as though it's back in those days whereby you cannot access the internet (wiredly) when someone uses the phone line to make a telephone call.
A: My Internet dies for a few minutes too when the phone rings. It's just bad connection, not a dial up thing. Highly doubt that even exists anymore.
Q: Best way to kill time at work (about 6 hours) without having access to internet?
A: No it's not dial up. The router is connected to the phone line but they're supposed to work in tandem. Except my providers are idiots and the connection goes for 95% of the time.
Q: An everyday problem you think is unique to you?
A1: Play Sudoku and other puzzles. Do some gossip as well


A2: Some of the softwares that I use. They are premium versions, but give us a lot of problems. Sigh!
Q: What would you like to see in LPU15: Acoustic versions of LP songs, or LP doing covers of other artists?
I said problem lol. What's wrong with sudoku and puzzles? I get the gossip but the rest seem normal.
A: Instrumentals or something like LPU8. I really want the wizard song

Q: What's currently getting the biggest hype in your social circle?
[OT: A1 answers @evooba's question which went unanswered. A2 is for yours.]
oh, lol

@amitrish Thanks, those things aren't my thing at all. Besides, you need internet to play them anyways lol
A: Internships
Q: Something that you find disgusting but it's not for most people?
A: Milk or bananas, either one.
Q: The opposite of Eva's Q
Yes it still does:
At my home, the landline is connected to the fax machine cum printer/photocopier, so the only problem is that the current printing stops when it rings for fax/call.
A: Celery
Q: Do u think ur internet connection is overpriced? I think monthly paid about 75 for a 100Mbps (apparently) connection, never get that kind of speed, and it often get very slow, occasionally even less than 1KB/s - eg srsly syncing @ 520B/s.
A: I don't know what my price is but my claimed speed is 24, I usually clock 6 on a good day. Once it got as bad as 0.38.
Q: A social pet peeve?
@samuel_the_leader Just wow!
A: People interrupting you while you speak, people chewing with their mouths open or not covering their mouths when coughing/yawning. Even people who park their cars so badly that take up 2 spaces instead of one… simply too many to name them all lol.
Q: Does your mind create the worst possible scenarios that can happen to you when you space out?
A: Yeah man, I remember when I was waiting in line for a LP concert. The doors of the concerthall had to open still and I was one step closer to it. With thousands of people slowly pushing me onto the barricades. And in my mind I had see the crowd stampede like a wild bunch of elephants. And I imaged Mike falling into the crowd and that the elephants would stomp him… The mind is a tricky place to space out in…
Q: Who you prefer: Cookie Monster or Elmo?
A: Cookie Monster.
Q: What will you this weekend?
[OT: @evooba Go old fashioned. Use newspaper/magazine sudokus. I know you specifically said "no internet", but maybe I didnt make myself very clear.
@Gatsie this is what happens when you do those many quizzes. You start tripping

]
A: Saturday is always a surprise. Sunday I'll be singing with the church band again.
Q: And since @amitrish requested it, here's another fun quiz! Which Muppet Are You?
my result: