ugh it needs to be public… Im not sure I want to do that…
Are you able to make a private group then the event as part of that by any chance?
you can do it like that i just think that there's too many groups out there as it is. I think i might risk the public event, does anyone else want to be made a host?
Im good with the friday night too, only time I'll really be able to in the next week too…
has anyone tweeted LPAU?
anyway i think i found a work around that other groups seem to be doing around the planet creating a page for the public event. that way I'm not going to be a troll magnet.
are we all g with it being 7:30 friday at birrarung marr?
the FB event is called Remembering Chester Bennington. Hosted by Remembering Chester Bennington Melbourne Get Together give me the word and i can make it public when i get back from training
Hi there
Summary:
Location- see map, we can shuffle along, is hard to pint point where to but there's a public toilet in the vicinity.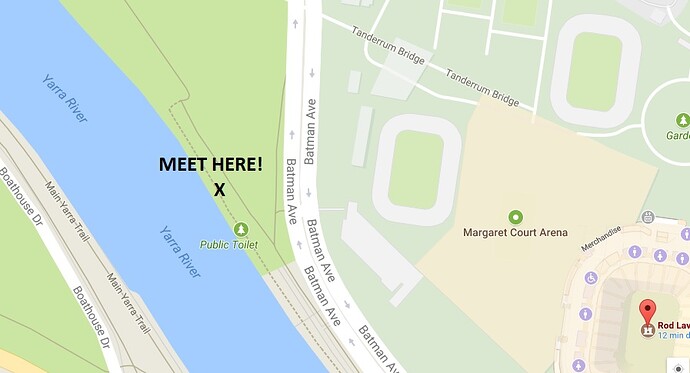 When:
Friday 28 JUL 2017 7.30pm
?? Saturday 29 JUL 2017 6.30pm ish (can peeps pls let me know if anyone is interested in Saturday)
Dress warm. I'll bring massive sheet of paper that will be converted to a card, you can write encouraging msgs to the band. I'm happy to mail it.
Please let me know guys, if everyone here is okay with the stuff above, I'm sending to LPAU and WM.
Thanks
sounds good to me I'll make it public on fb too
Sounds good, thanks guys. Let me know if you need help with anything.
Hey just ignore the trolls okay?
I'll try triple M, and nova and fox.
Hey ashley
Just checking, are you traveling to melbourne?
As in you're only able to make it on Sat/Sun?
Let us know.
easier said than done
here's the event guys
Redirecting...]&has_source=1
I would be very interested to come. I don't think there is anything happening in Adelaide
Hi Ashley,
The event has been set to start at 7.30pm on Friday up till Saturday 9.pm,
I'll be there on Friday evening and dropping by on Saturday.
Well done on organising this. My partner and I will be there for sure!
This is so far from Perth but I seem to be alone over here. Do you know anyone in Perth keen for a memorial?
Same girl, staring into space or crying. I know a lot of us would be the same.
Thank you thank you thank you.
Elllooooo… I need you to amend stuff on FB event please. Got some info from council. I have spammed u with several msgs on FB, talk there asap.