Someone knows why I can't buy it? I can't see Israel in the country list… why is that?
In my country it's so expensive, I can't buy

Be a sad album to listen to knowing it's the last
I have just pre order the one more light album today. Can't wait
Where are you from, my friend?
I'm from Brazil. The taxes here are very expensive. And you?
I am from Indonesia. I think we have a same problem about that…

I think the same



awesome


Really looking forward to this. Never had a chance to go to one of the One More Light shows so this should be excellent, and a great way to pay tribute to Chester aswell

Also Can't wait. Pre-order has already begun in amazon.com. But no announcement amazon Japan.
Is this album going to sell all over the world? or should I purchase directly from LPU?

This is what Lorenzo said the other day. I think the LIVE ALBUM has restricted shipping. I think its best to email Warner support and see if they can ship to you?
Perhaps @lorenzoerr might know, but I think he'll say the same because he is LPU not part of the Warner Live Album team
I'm about to pre-order it and I'm curious how long it will take to receive a physical copy to my country…
I believe the CD store is in Europe and will be sent out on the 15th December or potentially the 14th. I'd expect they'll arrive on the 18th (no post on Sundays in UK, so it can't arrive on the 17th) I hope @thornbird but I'm basing this on when my OML CD arrived in May.
I feel exactly the same

Thank you aaran.
I sent a e-mail to Warner Japan, and asked have plan to sell or not.
Even if Warner Japan do not sell, fortunately I can buy OML Live.
Japan tour has been canceled, I'm looking forward to releasing this album.
And sing with Chester.
Warner music (Japan) announced the release of "OML Live" in Japan.
It is likely to be the BEST x'mas gift.
Thanks all soldiers.
Today I tried to order the CD twice but I got this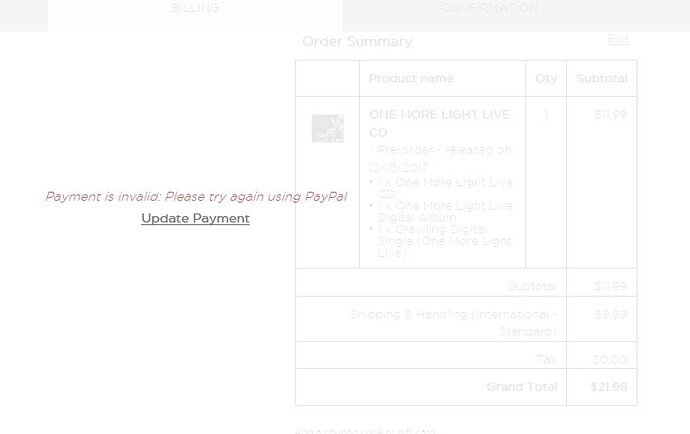 Did anyone have the same problem? I have international shipping (Belarus, East Europe) and was trying to pay by the same credit card as I payed to join LPU a couple of months ago so it's an ok card.
Don't get what's wrong with this payment

Try to manually type in your address and credit card details. Make sure the shipping address matches the billing address exactly.