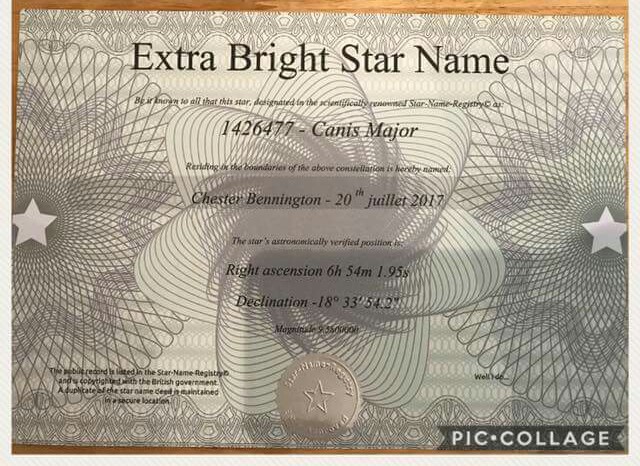 They actually did it!

Now we have a star named after Chester Bennington. Thank you all who signed the petition

Wow that so great . It so cool to have a star name after chester he truly deserve it
Yes, he does… I hope he's proud up there

He is pould he should know that the lp family will do anything to honor hem . He a big and brightest star in the sky now .
I can't wait to look up in the sky and see chester star just as bright as he was .
That is fantastic! Well done

Jennifer Butler
October 9 at 12:17pm · East Horsley, United Kingdom
I registered Chesters name with the stars and here is the certificate. Now we can all look up to the stars and smile



OFF OF THE FB GROUP - Make Chester Proud
The star that shined so bright finally has a star of his own.
He need a star on Hollywood walk of fame too he have a wonderful bright star in the sky that will shine brighter than the others star's
Very cool! And so fitting for his "one more light" to shine bright for the rest of us. I love it!
Why does it have to be the 20th and the word starting with a 'j' 2017

There, that's one light that would never go out!
Yes it ture his light will naver ever go out at all.
This is amazing. Our community should hold a event annually to raise lanterns to his star. Just so that star can keep burning.
This is amazing!! I have never seen such amazing things being done as I have here with this family​:blue_heart:

Hey… I wanted to know if I can watch it…? You have any website that I can see there the star…?
Thanks
Actually, I'm not sure… I just saw this certificate on Twitter…
A star for a literally start!!! amazing!!
Chester is and alway be the biggest brighter star then any star out there.