We have to vote more than that, otherwise he won't win.
You have to otherwise he won't win.
So what if he doesn't? He's still the best to us.
Ya eat doesnent materz wat otherz theank abaout heam. Hea iz a lejend faur aus nde veal raemaine
This.
I don't care about these voting sessions. Sure it's nice to see that Chester is getting some votes and is respected in this way, but the result doesn't change my view on what great singer he was.
Yep. Wea soljers doant bother theis. Uoe re rite @rickvanmeijel

Maybe it's my computer, but I don't get a "poll" link when I go to the voting page? Has anyone else experienced this?
Is this the page you get? If yes, then you just scroll to the bottom. If no then I don't know why it doesn't work for you.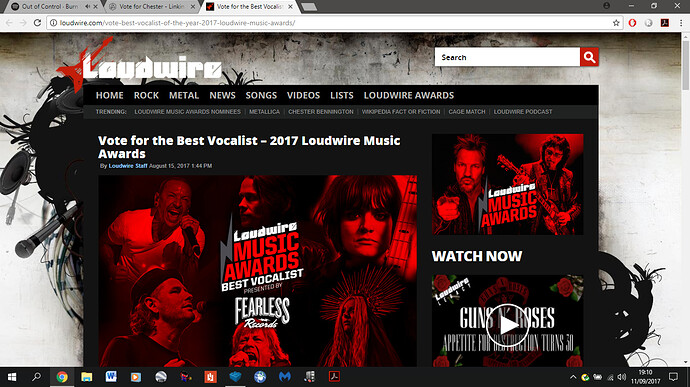 Thanks. Yes, I get that page, but it's just black at the bottom? There's no where else to go

Sorry, my bad, it's not really the bottom but the middle. I didn't see the comment section before. It should look like this.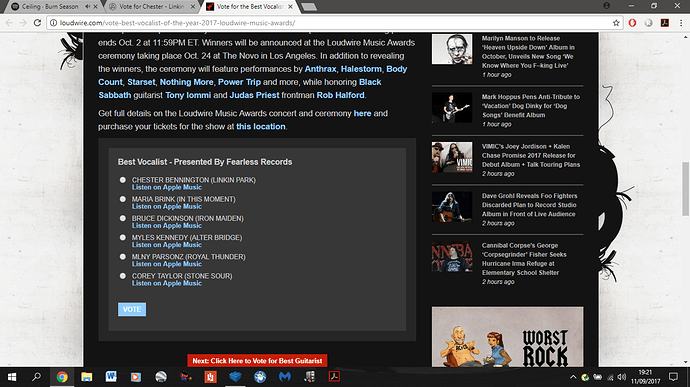 No problem.
Yeah, that section is completely missing, it's just black…
Works in a different browser! Voted

Good . Now remember the more we vote, the better chance we have. So what you gotta do is keep voting, and tell your friends who are fans of Chester, to help out. We only got one chance at this, so let's not blow it.
Mate are you not getting it? This vote is ultimately pointless and the winner is determined by which fans are the biggest spammers.
Agreed. This is exactly the point… biggest spammers
@the_termin8r and @Honey8 This is an important vote. Okay? Chester would have put his faith in us. You cannot afford to sit on the sidelines and let the spammers, and haters who have too much time on their hands, win. If you do, you'll let the haters win. There might not be a next time for him.



No it isn't, not even slightly. You're delusional and I'm done trying to tell you the poll is pointless.
Exactly friend…

they are REAL SPAMMERS! but we ain't that. We are REAL FANS!
Voting, when each person does not have equal and limited votes, is always useless and senseless… It is just waste of time. If they wanted real results, then they should have kept real rules too…
I have just vote for chester twice and I'm going to vote again for chester .
How many times can i vote? I what to vote for chester as many times as i can so he win it.