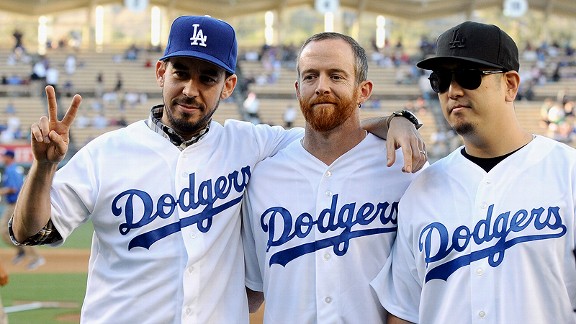 [quote]LOS ANGELES – It was a long day for Linkin Park on Friday as members Joe Hahn, Mike Shinoda and Phoenix Farrell spent the early evening with the Los Angeles Dodgers throwing out the first pitch before the game against the New York Mets.
And then they joined the rest of the California rock band for a private concert at Club Nokia at L.A. Live as part of a new initiative for the X Games brand – X Games MUSIC. In fact, Mr. Hahn wore his Dodgers jersey on stage.
Starting next year, X Games MUSIC will serve as a component of each Global X Games event, pairing unique action sports-influenced musical acts alongside X Games events in Aspen, Colo.; Tignes, France; Foz do Iguaçu, Brazil; Barcelona, Spain; Munich; and Los Angeles.
Linkin Park hit the stage in front of a thousand fan-club fans and sponsors at 11:35 p.m. local time and played for 90 minutes. They started the show with some of their biggest songs and then went into their fifth studio album, "Living Things," which was released this week. The album will hit No. 1 on the Billboard charts next week.
Lead singer Chester Bennington's voice was strong. While Shinoda and some bandmates were greeting fans backstage an hour before the show, Bennington was screaming in the dressing room to get his voice ready. The 36-year-old Bennington was telling jokes throughout the set, including talking about the fans sitting in the balcony.
"I like you guys up there sitting down," Bennington said. "I'd be doing that, too. I'm an old dude."
Shinoda, who helped produced "Living Things" with legendary record producer Rick Rubin, thanked fans for their support and focused on social media throughout the set. The show was live-streamed on Myspace and will be available all Saturday.
And Shinoda also talked about Linkin Park's Green Guitar Project. When the band begins its national tour in August, Shinoda said the band will be using "pieces of musical magic."
"We'll be using guitars that had wood sitting in landfills and going nowhere," Shinoda said. "We are looking at getting into the business of people sending in your guitars and we'll fix them, and they will never, ever leave this earth!"[/quote]